Limoncello
(lee-mohn-CHEH-lloh)
Limoncello is the generic name for an Italian citrus-based lemon liqueur that is served well chilled in the summer months.
An absolute natural product acquired by the infusion of lemon skins in pure alcohol. It is wonderful as a palate cleanser or as an after dinner drinks. Keep your bottles of Limoncello in the freezer until ready to serve. The ingredients are simple and few, and making a batch doesn't require much work, but you'll need some time.
It has long been a staple in the lemon-producing region along the Italian Amalfi Coast in Capri and Sorrento. The right climate, the right soil and site, contribute to growth of a very special kind of lemon tree, unique in its species. The lemon produced is large, elongated and with an irregular shape. The peel is particularly thick and sweet with a very characteristic aroma. It is locally known as "SFUSATO AMALFITANO".
Authentic Limoncello is made from Sorrento lemons, which come from the Amalfi Coast. Families in Italy have passed down recipes for this for generations, as every Italian family has their own Limoncello recipe, her is mine: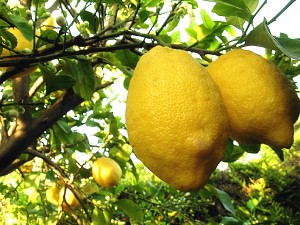 Limone Sfusato Amalfitano
Liquore al Limoncello (o Limoncino) secondo Franco
Limoncello liqueur (or Limoncino) according to Franco
Recipe courtesy of Franco Faggi, Fiorino Restaurant, East Falls, PA 19129
Prep Time: 15 min. + 15 min.
Inactive Prep Time: 8 days
Cook Time:  enough to boil water
Serves:  quite a few!
Ingredients:
Alcohol                      lt.                1                   0.75               1.5                1.75
Lemons (large)          #                 10                  7.5                 15                 17.5
Sugar                       gr.                500                375                750                875
Water                       gr.                2000              1,500             3,000             3,500
Wash and dry the lemons, peel them taking care to peel only the yellow part and none of the white, my suggestion is to use a potato peeler.
Add the lemon peels to a bottling jar, stainless steel or glass container large enough to host the alcohol and lemon peel. Close the jar or cover the container with plastic wrap and leave to infuse for 5 to 8 days.
After this time, make the simple syrup.  In a pot add the sugar to the water and over low flame bring to a boil, turn the heat off as soon it boils and cover with a lid. Let this cool completely.
At this point, add the simple syrup to the alcohol/lemon peel mixture, stir well and strain the trough a fine sieve and bottle.
Limoncello is always drunk cold so keep it in the refrigerator, better yet in the freezer.